Q3 2022 pro forma revenue was US $10.1 million, an organic increase of 20% over Q3 2021, and trailing twelve-month pro forma revenue was US $37.8 million, an organic increase of 32% over the previous twelve months
Q3 2022 pro forma Adjusted EBITDA was US $2.7 million, a decrease of 17% from Q3 2021, and trailing twelve-month pro forma Adjusted EBITDA was US $12.0 million, an organic increase of 14% over the previous twelve months
Excluding the results of Wedge Traffic, Q3 2022 revenue was US $8.8 million and Adjusted EBITDA was US $2.3 million, 21% and 6%, respectively, above analyst consensus
User Sessions on Playmaker's web properties reached 715 million in Q3 2022, an increase of 55% over Q3 2021
Toronto, November 14 2022 Playmaker Capital Inc. (TSX-V: PMKR) ("Playmaker"), ("the Company" or "Playmaker"), the digital sports media company that delivers authentic content experiences through its portfolio of sports media and technology brands, is pleased to report its financial results for the third quarter ended September 30, 2022 ("Q3 2022").
"We are very proud to announce another strong quarter of revenue growth and profitability," said Jordan Gnat, Playmaker CEO. "Our vertical focus on sports, continued momentum of direct sales, organic audience growth, differentiated content, and diversified revenue streams, is serving us very well. Our acquisition of Wedge Traffic in October was a bullseye. We identified the need to add meaningful affiliate revenue and now we have the team and the business that can deliver that at scale. We remain on track, continue to deliver strong results, and we are looking forward to Q4 and the FIFA World Cup."
"We remained sharply focused on profitability during Q3," said Mike Cooke, Playmaker CFO. "Our operating segments produced $2.3 million of Adjusted EBITDA in the quarter on an IFRS basis and $2.7 million on a pro forma basis. Our organic growth remains strong, as shown by the 20% growth in pro forma revenue compared to Q3 2021. Meanwhile, the $20.0 million convertible debt facility that we closed during Q3 provides significant additional capital to continue pursuing acquisitive growth opportunities as they arise. As we look ahead to Q4 and beyond, we are excited to continue building on the momentum we have generated in the first nine months of 2022."
FINANCIAL HIGHLIGHTS (Figures in USD)
Revenue – Revenue was $8.8 million in Q3 2022, compared to $4.8 million in Q3 2021.
Operating Income – Operating loss was $0.4 million in Q3 2022, compared to operating income of $1.0 million in Q3 2021. The $0.4 million operating loss in Q3 2022 included $1.7 million in non-cash expenses related to stock-based compensation and depreciation and amortization.
Pro Forma Revenue (including all acquisitions to date) – Revenue was $10.1 million in Q3 2022, an increase of 20% from $8.4 million in Q3 2021. For the nine months ended September 30, 2022, revenue was $28.4 million, an increase of 29% from $22.0 million in the same period of 2021.
Pro Forma Adjusted EBITDA (including all acquisitions to date) – Adjusted EBITDA was $2.7 million in Q3 2022, a decrease of 17% from $3.3 million in Q3 2021. For the nine months ended September 2022, Adjusted EBITDA was $8.5 million, an increase of 9% from $7.8 million in the same period of 2021.
Cash and Cash Equivalents – Cash and cash equivalents were $14.0 million at September 30, 2022 compared to $2.5 million at June 30, 2022.
OPERATIONAL HIGHLIGHTS
Playmaker achieved record engagement metrics in Q3 2022 across its owned and operated web properties, reaching a monthly high of 95 million users and generating 715 million sessions in the quarter, representing a pro forma increase of 30% and 55%, respectively, over Q3 2021. Playmaker's web properties generated more than 2 billion monthly ad impressions during Q3 2022, and its social media footprint now attracts, in aggregate, more than 175 million followers.
Playmaker continued to execute an increasing number of direct sales and partnerships with tier-one advertisers and sports betting operators for the quarter ahead of marquee events, including FIFA World Cup Qatar 2022. Direct sales for Playmaker's owned and operated media businesses increased by 30% in Q3 2022 over Q3 2021, with 88% growth in direct sales from the sports betting segment over the same periods.
Playmaker acquired leading iGaming affiliate operator, Wedge Traffic Ltd. ("Wedge Traffic"), introducing its first pure affiliate business. In addition to providing Playmaker with meaningful revenue and EBITDA, Wedge increases Playmaker's exposure to the US sports betting market through its 15 active affiliate relationships with leading iGaming operators across 16 US States and the Province of Ontario. As part of the acquisition, Wedge Co-Founders, Dan Kersh and David Copeland, as well as its Chief Technology Officer, Ryan Barnett, joined Playmaker's senior leadership team.
Futbol Sites maintained its position as the largest regional digital sports media group in Latin America. Select Futbol Sites brands, namely Bolavip, Redgol, Fanaticos, and Cracks command definitive market leadership across key regions including Brazil, Chile, Argentina, and Mexico. Several Futbol Sites brands will be on-site at the upcoming FIFA World Cup to create authentic and timely content for their audiences, and maximize the exposure of their corporate partners.
The Nation Network launched several new hockey video podcasts to bolster its line-up of talent-led shows, supported by national and local sponsors such as Betway, DoorDash, PointsBet, and Tower Dodge. Barn Burner, with Dean "Boomer" Molberg, Ryan Pinder, and former Calgary Flames Defenceman, Rhett Warrener, which premiered in September, has solidified its position as a top sports podcast in Canada. These newly launched shows contribute positive EBITDA to the business.
In July 2022, Yardbarker launched a sports betting hub on Yardbarker.com in partnership with leading odds comparison company, Oddschecker. The partnership provides Yardbarker with a content mix that caters to both sports fans and sports bettors who wish to explore and compare sports betting offers from various sportsbooks across numerous markets. Yardbarker's sports betting hub followed the launch of its sports betting focused newsletter product, BarkBets, which offers subscribers a detailed rundown of actionable insights and best picks for each night's slate of sports betting options.
CONFERENCE CALL
The Company will host a management conference call to discuss its Q3 2022 financial results on November 15, 2022, at 10:00 a.m. (Eastern Time). Hosting the call will be Jordan Gnat, Chief Executive Officer; Jake Cassaday, Chief Operating Officer; and Mike Cooke, Chief Financial Officer.
To participate in the conference call, please dial-in using one of the following numbers approximately five minutes prior to commencement and ask to join the Playmaker call:
Dial-In Number (Toll Free): 1-844-707-6933
Dial-In Number (International): 1-412-317-5796
A replay of the Conference Call and a Q3 2022 Company Overview presentation will be made available at playmaker.fans/investors.
To sign up for Playmaker Investor Alerts, visit: PMKR Investor Alerts.
TSX VENTURE EXCHANGE DISCLAIMER
Neither TSX Venture Exchange nor its Regulation Services Provider (as that term is defined in policies of the TSX Venture Exchange) accepts responsibility for the adequacy or accuracy of this release.
NON-IFRS MEASURES
Some of the information presented in this press release includes non-IFRS financial measures, including, "EBITDA", "Adjusted EBITDA", "working capital", and metrics that are presented on a pro forma basis. These measures are not recognized measures under IFRS and do not have standardized meanings prescribed by IFRS and are therefore unlikely to be comparable to similar measures presented by other companies. Rather, these measures are provided as additional information to complement IFRS measures by providing further understanding of the Company's results of operations from management's perspective. Accordingly, these measures should not be considered in isolation nor as a substitute for analysis of the Company's financial information reported under IFRS.
"EBITDA" is earnings before interest, taxes, depreciation and amortization.
"Adjusted EBITDA" is earnings of the Company's operating subsidiaries before interest, taxes, depreciation and amortization, excluding the impact of head office costs and any one-time costs.
"working capital" is the Company's current assets minus its current liabilities.
"pro forma" is an adjustment to incorporate the results of any acquisitions made through the date of this press release, assuming each acquisition occurred on the first day of the period being presented.
FORWARD-LOOKING STATEMENTS
This press release may contain forward-looking information within the meaning of applicable securities legislation, which reflects Playmaker's current expectations regarding future events. The words "will", "expects", "anticipates", "believes", "plans", "intends" and similar expressions are often intended to identify forward-looking information, although not all forward-looking information contains these identifying words. Forward-looking information is based on a number of assumptions and is subject to a number of risks and uncertainties, many of which are beyond Playmaker's control, which could cause actual results and events to differ materially from those that are disclosed in or implied by such forward-looking information. Such risks and uncertainties include, but are not limited to: changes in general economic, business and political conditions. Playmaker undertakes no obligation to update such forward-looking information, whether as a result of new information, future events or otherwise, except as expressly required by applicable law.
ABOUT PLAYMAKER CAPITAL INC.
Playmaker Capital Inc. (TSX-V: PMKR; OTC: PMKRF) is a digital sports media company that acquires and integrates premier fan-centric media brands, curated to deliver highly engaged audiences of sports fans to tier one advertisers, online sports betting operators, and sports federations and leagues. Leveraging its in-house technology stack, Bench, and with a 360-degree view of sports fans, Playmaker delivers authentic digital content experiences for sports fans and best-in-class results for its partners across the Americas.
Playmaker reports in U.S. dollars, except where noted otherwise, and in accordance with International Financial Reporting Standards ("IFRS").
For more information, visit: http://www.playmaker.fans or contact Playmaker Chief Executive Officer Jordan Gnat via email jgnat@playmaker.fans | T: (416) 815-4993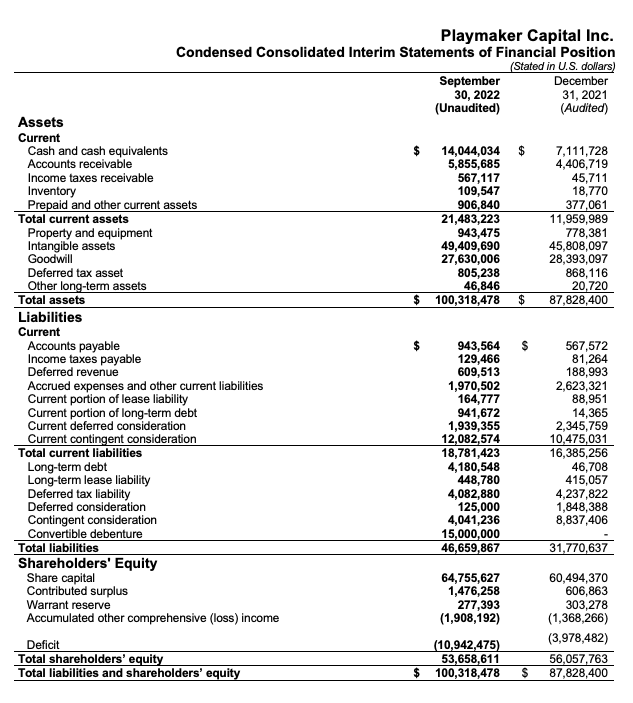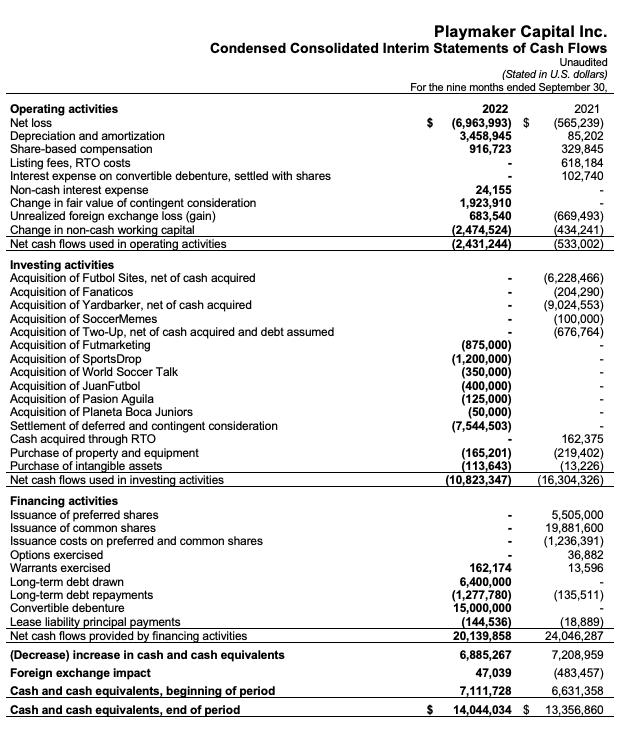 MEDIA
Elias Blahacek – E: elias@playmaker.fans | T: (416) 254-4345