According to Comscore's July rankings, Futbol Sites is the number one ranked sports media group in the region as rated by both unique users and sessions.
Toronto, Canada (September 15, 2021) – Playmaker's Futbol Sites was ranked as the number one regional digital sports media group across the six top Latin American markets in July's rankings by Comscore, the global benchmark for planning, transacting, and evaluating media across platforms.
Founded in 2008 by Federico Grinberg and Nahuel Pan, Futbol Sites boasts a Latin American audience in excess of 37.5 million unique users across the top six Latin American markets (per Comscore – Brazil, Mexico, Argentina, Colombia, Chile and Peru) that visit its more than 15 premium web properties and apps more than 166 million times per month. This expansive reach allows the company to deliver over 1.4 billion monthly ad impressions to top-tier advertisers and online sports betting companies. Futbol Sites also reaches more than 300 million fans monthly, through a variety of social media channels, marking another area of growth for the business.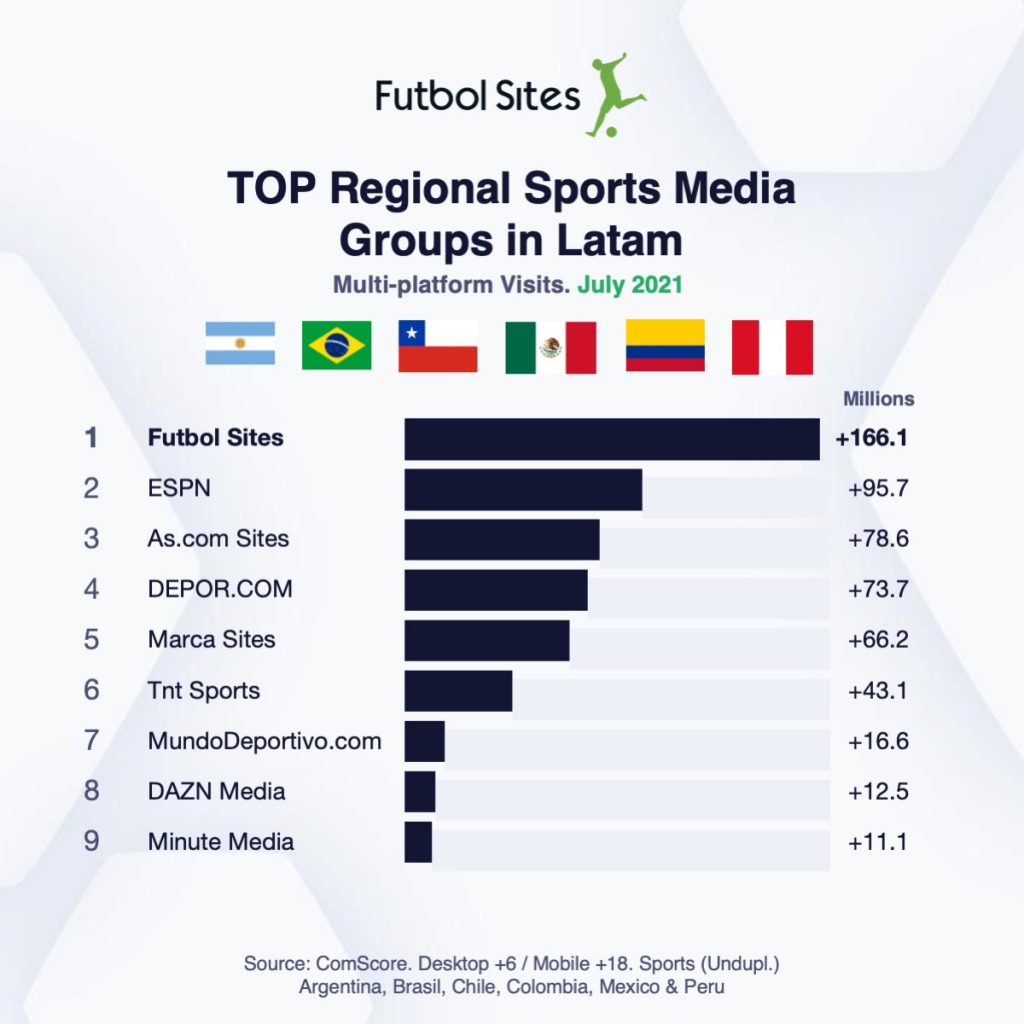 "To be the number one regional digital sports media network across the entire Latin American market has always been one of our core goals," commented Federico Grinberg, Futbol Sites CEO. "I'm delighted for our team, and for the entire Playmaker family, but this is just the beginning. Futbol Sites has an ever-growing audience, and with Playmaker Bench, we have the technical and creative capabilities that will allow us to retain and grow this leadership position in our home market while also continuing to expand our reach in the U.S. and Canada."

"Playmaker is creating an ecosystem of digital media and technology brands that provide unrivalled access to fans throughout North and South America," added Jordan Gnat, Playmaker CEO. "Futbol Sites is now the number one regional digital sports media network in the key Latin American markets. It is a recognition of the hard work the entire team at Futbol Sites puts in every day, and a clear demonstration of Playmaker's increasing strength in the global digital sports media market."


####

TSX VENTURE EXCHANGE DISCLAIMER
Neither TSX Venture Exchange nor its Regulation Services Provider (as that term is defined in policies of the TSX Venture Exchange) accepts responsibility for the adequacy or accuracy of this release.
FORWARD LOOKING STATEMENTS
This press release may contain forward-looking information within the meaning of applicable securities legislation, which reflects Playmaker's current expectations regarding future events. The words "will", "expects", "anticipates", "believes", "plans", "intends" and similar expressions are often intended to identify forward-looking information, although not all forward-looking information contains these identifying words. Forward-looking information is based on a number of assumptions and is subject to a number of risks and uncertainties, many of which are beyond Playmaker's control, which could cause actual results and events to differ materially from those that are disclosed in or implied by such forward-looking information. Such risks and uncertainties include, but are not limited to: changes in general economic, business and political conditions. Playmaker undertakes no obligation to update such forward-looking information, whether as a result of new information, future events or otherwise, except as expressly required by applicable law.

ABOUT PLAYMAKER
Playmaker (TSX-V: PMKR) is a digital sports media company that lives at the intersection of sports, betting, media and technology. Playmaker is building a collection of premier sports media brands, curated to deliver highly engaged audiences of sports fans to sports betting companies, leagues, teams and advertisers.
For more information, visit: playmaker.fans or contact Playmaker Chief Executive Officer Jordan Gnat via email jgnat@playmaker.fans.

ABOUT FUTBOL SITES
Headquartered in Miami, Florida, Futbol Sites is a leading digital media group specializing in soccer related audiences in Latin America, Central America, Mexico, the U.S. and Canadian Hispanic markets. Futbol Sites owns and operates more than 15 websites, reaching more than 50 million unique users each month, including the market-leading BolaVIP.com.

MEDIA CONTACTS
Tom Webb – E: tom@redknotcomms.com | T: (+1) 512 952 9369Romilly Evans – E: rom@redknotcomms.com | T: (+44) 7766 752 274