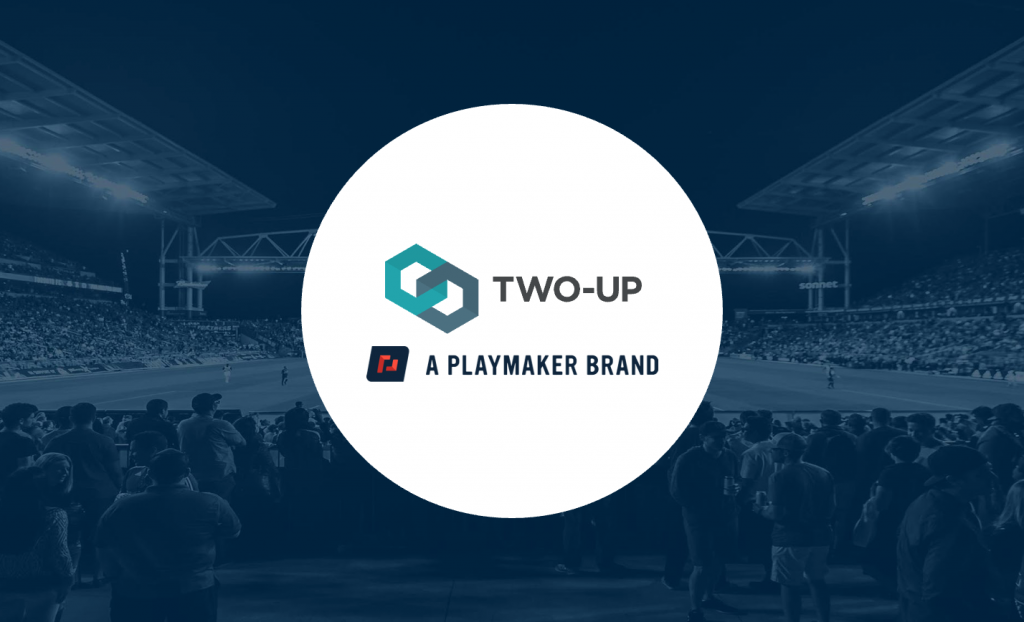 Toronto, Canada (September 1, 2021) – Playmaker Capital Inc. (TSX-V: PMKR) ("Playmaker"), the digital sports media company that lives at the intersection of sports, betting, media and technology, has broadened its range of core competencies with the acquisition of leading digital product agency Two-Up Agency Ltd. ("Two-Up"). Two-Up provides technical solutions to the online gaming industry's biggest brands, bringing best-in-class technology tools and in-depth knowledge and expertise of the market to clients including News International, BetGenius, William Hill, AtTheRaces, SkyBet, and Sporting Solutions.
Two-Up was founded in 2016 by gaming technology expert Robbie Morris who now joins the Playmaker leadership team. Playmaker's acquisition of Two-Up will add a team of 24 experienced sales and technology experts spread across two primary offices in London, UK and Krakow, Poland. This team includes 15 engineers with deep experience in the development of regulated betting products, monetization tools, free-to-play games, and APIs into major real money gaming operators.

Two-Up owns an unrivalled collective expertise of the complex market within which the business operates. Among the specialist skills Two-Up provides its clients are contextual ad widgets, including integrated betslips with conversion and tracking management; the creation, production and integration of scoreboard and data visualizations; product development, including native content, through sports, casino, bingo and esports; and free-to-play application builder services, all supported through a series of back-end engines and content management systems. Within the Playmaker ecosystem, Two-Up's core technology products will be integrated into Playmaker's newly announced proprietary technology stack, Playmaker Bench. Playmaker Bench features a collection of best-in-class technology tools, integrated into a proprietary software platform that is designed to enhance user engagement and supercharge monetization. Two-Up's myriad of products and areas of technical expertise will offer immediate value add to Playmaker Bench.
"Playmaker is a natural fit for Two-Up. We complement the existing strengths within Playmaker well, and, as part of the Playmaker Bench technology suite, we will enhance Playmaker's monetization efforts across owned and operated properties," commented Robbie Morris, Founder and CEO of Two-Up. "We're excited and delighted to become a part of the Playmaker family. This opportunity will allow us to strengthen our core competencies, meaning existing and future clients will continue to benefit from what we set out to deliver in 2016, which is a first-class service."
"I am pleased to welcome Two-Up into the Playmaker family, and am excited about how Robbie and his team will help bolster Playmaker's technology offering," added Jordan Gnat, Playmaker Founder and CEO. "Two-Up has deep relevance, credibility and unrivalled connections within the online gaming world globally. With this acquisition, we have added yet more value to our shareholders, and taken another step towards achieving our mission of building an ecosystem of assets that will provide sports fans and our clients with outsized value."
TRANSACTION DETAILS
Pursuant to the terms of a purchase agreement dated August 31, 2021, Playmaker acquired 100% of Two-Up for aggregate consideration of up to US$5.75 million. The purchase price consideration consisted of a payment of US$750,000 in cash, the issuance of US$2.5 million of Playmaker common shares (the "Playmaker Shares") at the Canadian dollar equivalent of CAD$0.60 per Playmaker Share and up to a maximum of US$2.5 million in the form of an earn-out, payable to the sellers upon Two-Up achieving certain EBITDA and revenue targets over the three-year period following closing. In addition, the sellers are eligible to receive a bonus earn-out in the event the EBITDA and revenue targets are exceeded.


####


TSX VENTURE EXCHANGE DISCLAIMER
Neither TSX Venture Exchange nor its Regulation Services Provider (as that term is defined in policies of the TSX Venture Exchange) accepts responsibility for the adequacy or accuracy of this release. Satisfaction of any portion of the US$2.5 million earn-out amount or bonus earn-out amount in Playmaker common shares will be subject to the prior approval of the TSXV.

FORWARD LOOKING STATEMENTS
This press release may contain forward-looking information within the meaning of applicable securities legislation, which reflects Playmaker's current expectations regarding future events. The words "will", "expects", "anticipates", "believes", "plans", "intends" and similar expressions are often intended to identify forward-looking information, although not all forward-looking information contains these identifying words. Specific forward-looking information contained in this press release includes, but is not limited to, statements relating to (i) the benefits expected to result from the acquisition of Two-Up by Playmaker, (ii) the future performance of Two-Up, including the achievement of certain earn-out targets and its continued expansion and growth and (iii) other statements that are not historical facts. Forward-looking information is based on a number of assumptions and is subject to a number of risks and uncertainties, many of which are beyond Playmaker's control, which could cause actual results and events to differ materially from those that are disclosed in or implied by such forward-looking information. Such risks and uncertainties include, but are not limited to: changes in general economic, business and political conditions. Playmaker undertakes no obligation to update such forward-looking information, whether as a result of new information, future events or otherwise, except as expressly required by applicable law.

ABOUT PLAYMAKER
Playmaker (TSX-V: PMKR) is a digital sports media company that lives at the intersection of sports, betting, media and technology. Playmaker is building a collection of premier sports media brands, curated to deliver highly engaged audiences of sports fans to sports betting companies, leagues, teams and advertisers.
For more information, visit: playmaker.fans or contact Playmaker Chief Executive Officer Jordan Gnat via email jgnat@playmaker.fans.
ABOUT TWO-UP
Two-Up is a leading agency working across the gaming industry, supporting Tier One operators through to start-ups. Carving out a niche as pioneers and innovators across the gambling sector, Two-Up's services stretch through customer conversion to product consultancy, utilizing staff across the agency's London and Krakow offices to deliver design and development resources to assist clients from SkyBet to GamerWager, and Fair Play to William Hill. Two-Up's role is to make the lives of the agency's clients easier by finding solutions to problems caused by legacy infrastructure, a lack of time, or a lack of resource.
MEDIA CONTACTS
Tom Webb – E: tom@redknotcomms.com | T: (+1) 512 952 9369; Romilly Evans – E: rom@redknotcomms.com | T: (+44) 7766 752 274